The program will implement effective litter prevention across Lake Illawarra by addressing litter through community education and events, enforcement and regulation, monitoring and evaluation, and improving infrastructure around the Lake. 
While Luv the Lake will cover the entire Lake Illawarra Foreshore, 3 hotspot sites have been identified on each side of the lake. Litter prevention activities at each of these locations will target different user groups, undergoing different activities, whilst all sharing the lake.
Shellharbour hotspots:
Reddall reserve, near the Fish and Chip kiosk 
Picnic Island, immediately west of Windang bridge 
Ski Way Park, Oak Flats
Wollongong hotspots:
Kully Bay and surrounding parkland
Kanahooka Beach and surrounding parkland
Hooka Park/Fred Finch Park
Luv the Lake will work to address two litter prevention actions in Council's Lake Illawarra Coastal Management Program (CMP), jointly developed and coordinated with Wollongong City Council:  
WQ8 - Improve Litter Management  
PM3 - Develop and implement a community engagement and participation strategy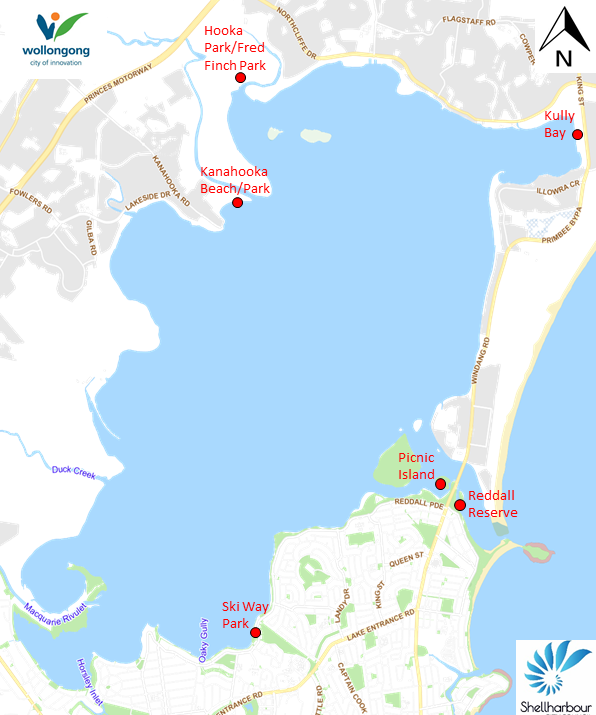 Dont be a Tosser
Over 25,000 tonnes of litter is tossed each year in NSW. The EPA's 'Don't be a Tosser' campaign plays an important role in reducing litter and working to provide a clean and safe environment, now and in the future. 
Council Litter grants assist local governments to deliver litter prevention projects like Luv the Lake that answer their community needs. These projects play an important role in achieving long-term goals for litter reduction in NSW. 
Don't be a Tosser places the responsibility for littering on the individual and encourages us to think about our own actions. Luv the Lake will build on this approach and continue the conversation, encouraging the community to report a tosser, dont be a tosser and to luv the lake.
Program Actions
Litter officer 
Establish and fill the part-time position of Litter Officer who will: 
Coordinate volunteers and community clean up days around the lake on a regular basis 
Conduct litter audits 
Utilise a range of 'soft enforcement' tools to educate and engage with the community 
Share the impacts and harm of litter on the environment, encourage the use of bins, and educate people on how to "Report a Tosser' through the EPA. 
Be able to issue fines should the situation be appropriate to do so 
Cleaning 
Review and improve existing cleaning schedules 
Engage with local community groups already doing active clean ups along the lake  
Host large scale clean up days twice a year, in alignment with Clean up Australia Day and World Cleanup Day 
Infrastructure 
Install cigarette butt bins at each hotspot location 
Install more fishing waste bins along the Lake foreshore 
Improve bin infrastructure at Picnic Island 
Improve signage on all public bins along the Lake foreshore 
Education and Awareness 
Develop a communication and engagement plan in partnership with Wollongong City Council  
Raise community awareness of the impact of littering 
Empower the community to report a person who has littered 
Install decals along the foreshore walk to raise awareness on fines for littering 
Enforcement 
Increase visibility and patrols of Council compliance team and the Litter Officer 
New compliance staff will undergo training for reporting littering from a vehicle and issuing fines 
Additional staff will be employed over summer who will be trained in reporting littering and how to discuss appropriate bin behaviour with the community. 
Involvement 
Council will involve and engage with: 
Illawarra Shoalhaven Joint Organisation (ISJO) 
Shellharbour City Councillors, Mayor and the Lake Illawarra CMP Committee 
The community surrounding Lake Illawarra and the wider Shellharbour region 
Internal working group with key stakeholders from across Council (Waste, Environment, Compliance etc.)