Hidden Forest Festival: THIS WEEKEND!
DUE TO POPULAR DEMAND & SOME PEOPLE MISSING OUT ON BLACK FRIDAY SALES, YOU CAN GET YOUR TIX NOW FOR $30. USE CODE: 30YAY Limited tix at this price so make sure you get in quick!
The Hidden Forest music festival is a full day of delicious food, craft beer and wine, handmade markets, relaxation and, of course, great music happening on Saturday 14 December. Gates will be open from 2pm.
Tucked away in the magical woodland setting of Blackbutt Forrest, The Hidden Forest brings together a carefully crafted medley of local and nationally recognised artists that will have you grooving from day to night.
Set to round out the Shellharbour Surf and Skate Festival with a bang - start gathering your mates, pack your picnic blanket and get ready for the newest annual music festival in the beautiful coastal city of Shellharbour.
SET TIMES ARE NOW LIVE: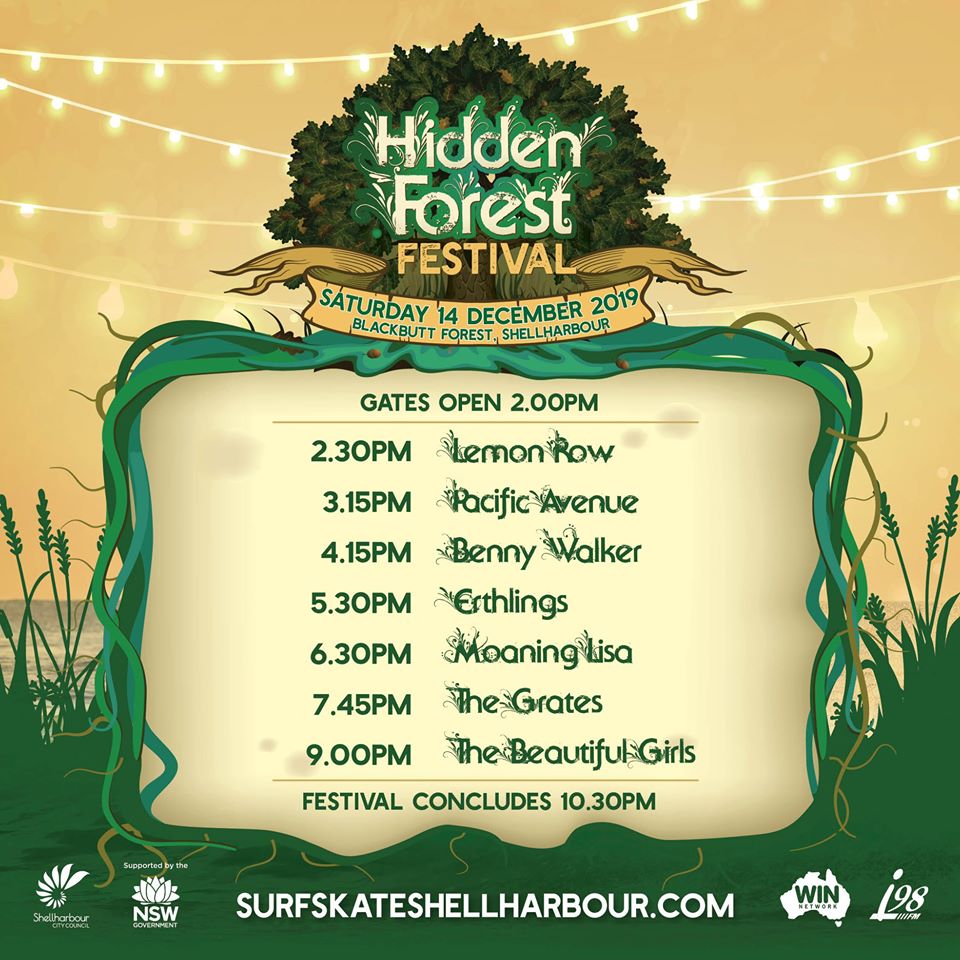 The Beautiful Girls
We don't think that there is a better artist to celebrate the beauty of coastal living than The Beautiful Girls. Bring in Summer with the sun-soaked hues of the Aussie roots music project, centered around singer/songwriter Mat McHugh. The Beautiful Girls finished off a successful national tour early this year and have toured internationally multiple times with their most recent four albums reaching the top 20 in the ARIA Albums chart. 
The Grates
Leading us into the first year of Hidden Forest are indie rock royalty The Grates and we couldn't be more excited. The Brisbane three-piece will be performing some of the most memorable moments from album Teeth Lost, Hearts Won, which was debuted number 6 on the ARIA charts and songs from their breakout, debut LP Gravity Won't Get You High, as well as many more from their extensive catalogue.
Moaning Lisa
Canberra four-piece Moaning Lisa, have been killing it since their formation in 2016, packing out venues with their 90s grunge, mixed with modern alternative rock sound. Since their inception, Moaning Lisa have received numerous accolades including two NLMA nomination, winning the National Campus Band Competition, and their debut single 'Comfortable' being named BMA Magazine's 'Song of The Year'.
Erthlings
Erthlings consist of four incredibly talented young women from Sydney, who have been playing together since the age of eight. With a mixture of dreamy and moody vocals, keyboards, soft guitar and drum rhythms, Erthlings debut single 'Bridges' and their single 'Cuts and Bruises' has received promising national attention. 
Benny Walker
Hailing from regional Victoria, Indigenous singer/songwriter Benny Walker will be bringing guitar driven blues and roots deep from the soul to Hidden Forest. His love songs and epic tales are mixed with passion for the land, the people, summer vibes and deep grooves. Benny received four NIMA 2016 nominations for Oh No You Don't, has topped number one on the AMRAP Charts twice and was awarded "Best Aboriginal Talent" at The Age Music Victoria Awards.
Pacific Avenue
Gerringong locals Pacific Avenue formed in 2017 and deliver a unique blend of fast-paced ballad rock. Just off the back of their 3rd East Coast tour for their debut EP  'Strawberry Skies', we can expect an electrifying performance that packs a punch. The four-piece have already played alongside established acts such as Tash Sultana, Ocean Alley and the Wombats, and are set to take Hidden Forrest by storm. 
Lemon Row
South Coast duo Lemon Row bring a tasty blend of crisp vocals, bedazzled chord formulas and cardiac arrest inducing drum beats. They have just released their new single called 'Toucan Eye' off their up and coming debut EP and we can't wait to get amongst their unique surf rock energy. 
Early Bird tickets are $39 (plus booking fee) - on sale until Friday 27 September 2019. Tickets are $52 (plus booking fee) after this. Stay tuned for the latest news by signing up to our Facebook event
Tag your Instagram photos with #hiddenforestfestival #surfskateshellharbour
Hidden Forest Festival is proudly sponsored by Destination NSW, i98FM & WIN Network.