Being a Good Neighbour
Shellharbour has been celebrating Good Neighbours since 2001. The coronavirus pandemic and the social distancing measures have impacted on the way we connect with each other. It is now more important than ever to unite as a community and become good neighbours. 
Good Neighbour Awards
Shellharbour City Council is proud to be recognised as a "very neighbourly organisation" by the Neighbour Day Organisation.
Shellharbour City Council holds the annual Good Neighbour Awards to recognise and celebrate the community members who reach out, support and help care for the people in their neighbourhoods. 

This year's Good Neighbour Award nominations opened on Sunday 27 March.
Submit a Good Neighbour form online or download a Good Neighbour nomination form.
Download a Kids Drawing nomination form.
Nominations close Sunday 1 May 2022.
Keep safe in your homes and neighbourhoods
We recommend that you become aware of the public health authorities' advice. Visit www.health.gov.au to stay up to date and informed so that you can keep yourselves and your neighbourhood healthy. It is essential that you follow all social distancing measures and only leave your homes when necessary (for food, medical, school, work, care or exercise).
Be a good neighbour
Social distancing measures have made it hard for people to stay connected and this may lead to people feeling unsafe and isolated. Shellharbour's Good Neighbour Card can help you share your details with your neigbours and list ways that you can help each other and stay connected. Coronavirus is contagious and can live on some surfaces for a period of time, depending on the surface. Please take every precaution to ensure you are spreading only kindness. Wash your hands before delivering your cards and when possible wear gloves. 
We encourage everyone to look out for each other and reach out to your neighbours if you need help or can offer help.  Below are a few tips on how you can be a good neighbour:
• Pick up food or medicine for a neighbour that is self-isolating or vulnerable. 
• Smile, wave and say hello when you see your neighbour! Maintain the recommended 1.5m distance when saying hello but it might just make their day. 
• Chat over the fence, from balcony to balcony, or verandah to verandah
• Host a driveway cuppa or happy hour – While keeping your distance. Invite your neighbours to come out to their driveways every day at a certain time to enjoy a cuppa or their favourite beverage. 
• Virtual morning tea. Grab cuppa, and telephone or video call to connect.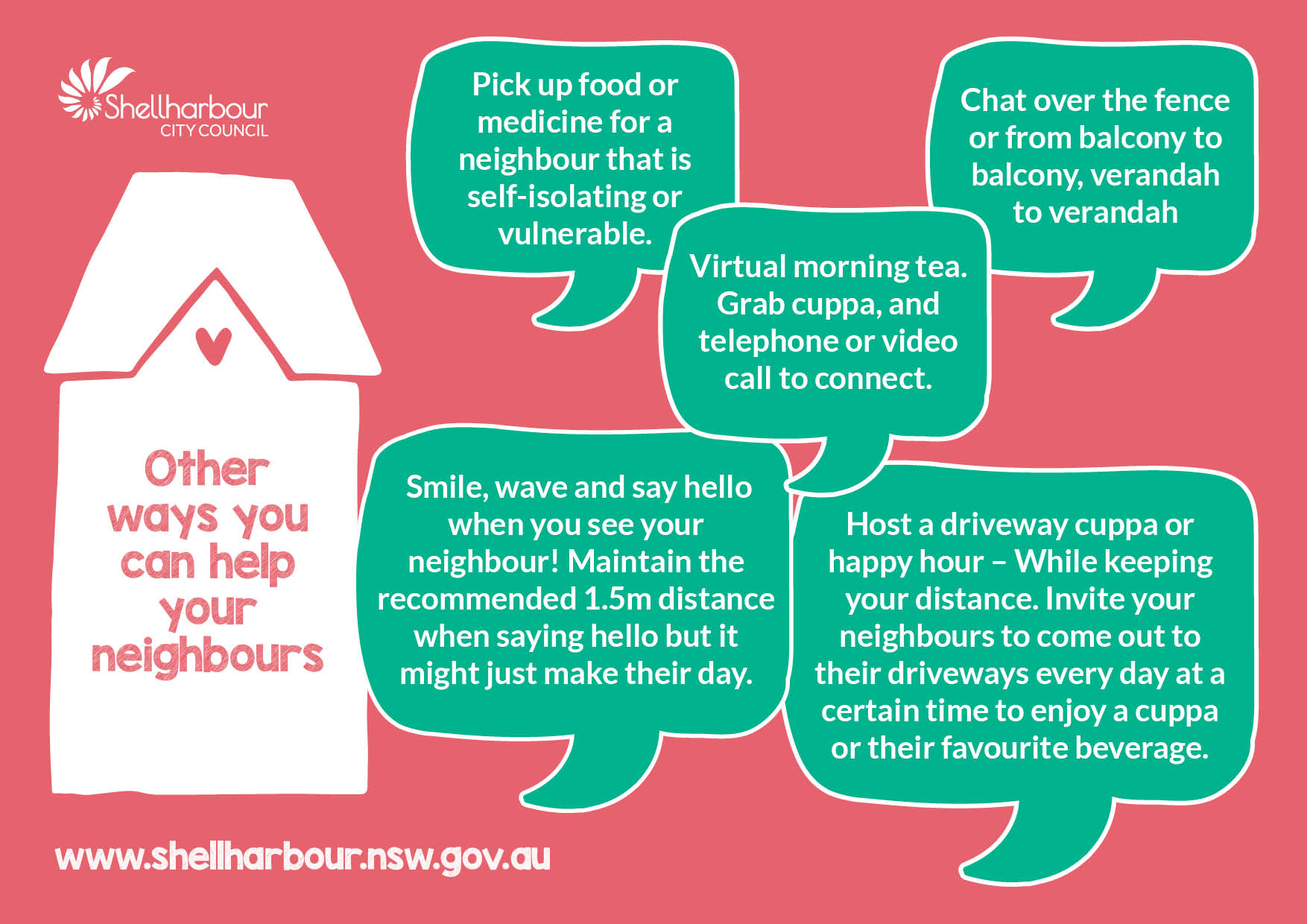 Stay Connected
In these unknown times, it is important to stay connected to your neighbours, family and community by phone or online.  If you are feeling isolated or need help, Council can help you with a link to services by contacting us on 4221 6111 or visit www.shellharbour.nsw.gov.au.  You can also visit www.shellharbourconnect.com.au for more information on community services, events and information on how you can stay connected to your community.