Shellharbour Cemetery
Shellharbour Cemetery is one of the oldest cemeteries within the city, with recorded burials dating back to the 1800s.
Shellharbour Cemetery is managed in accordance with Council's Cemetery Operations Policy and associated procedures 
There are no new burial sites available for reservation at Shellharbour Cemetery but, the placement of ashes can be accommodated in the Memorial Garden or in pre-reserved niches or Landscaped Rockeries. 
Shellharbour Cemetery is non-denominational and is sectioned by plot type of lawn or mixed Headstone/Monument.
View the Cemetery map here.
Placement of Ashes 
Families with pre-reserved niches or rockeries are able to place ashes within these sites. 
Ashes placed in the Brick Walls of Niches or Granite Walls of Niches must be in a predetermined ashes container. The ashes are placed within the wall and the niche is sealed by the predetermined plaque style appropriate for the site. 
Families with pre-reserved rockery sites may place ashes within the rockery. The style of plaque permitted will depend on the rockery type. Council officers will advise what is permitted upon application to place ashes. 
Ashes can only be placed by Council officers upon completion of the relevant applications and approval process.

Memorial Garden  
The memorial garden allows for placement of ashes. 
Ashes are buried within the garden and a small stainless steel plaque is affixed to the concrete kerb. 
Plots are aligned in groups of two (2) and allocated consecutively. Single reservations or placements are accepted. 
Council may allow families to install a granite style memorial over the plot of a predetermined size and style upon application. 
Flowers must be placed in a vase supplied by Council and not encroach onto adjoining plots. 
No other tributes or memorials are permitted in the garden.
Headstone/Monument Sections
Burials are permitted in pre-reserved burial sites only 
Headstone/Monument sections at Shellharbour Cemetery allow for mixed memorial types. 
In these sections the family can choose to construct either a headstone only or a full monument.  
The maximum number of interments is two (2) subject to Council approval. 
If you are concerned about what type of memorial is permitted on your burial site please contact Council's Administration Officers on 4221 6111 to clarify.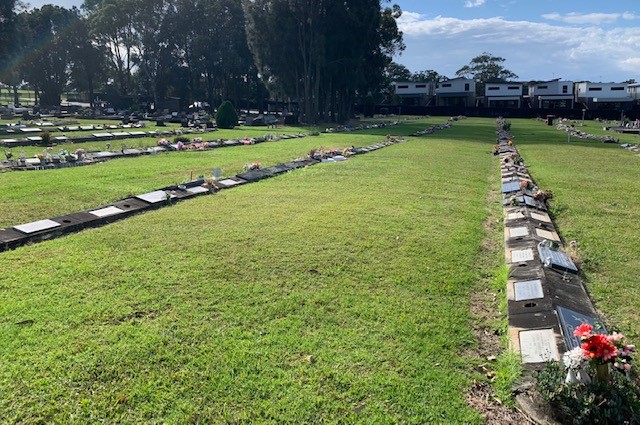 Lawn sections can be single or double depth depending on the reservation with a plaque style memorial affixed to the concrete beam at the head of the grave. No other memorial is permitted in these sections. 
Applicants must contact a Council Approved Stonemason if they would like to install a Granite Plaque.
Click here to see the other types of plaques available.
The Cemetery gates are open from sunrise to sunset.
For Fees and Charges, please click HERE
Cemetery Operations Policy
For Cemetery Operations Policy, please click HERE
Further Information and Contact Us
For more information on burial options, memorialisation or reserving a cemetery site, please contact Council's Cemetery Administration Officers on 4221 6111 during business hours (8:30am-4:30pm) Monday to Friday.  
Cemetery Administration Officers are available by appointment during business hours at the Shellharbour Civic Centre, 76 Cygnet Avenue Shellharbour City Centre to assist with your application lodgement and approval process.