Shellharbour Marina is Australia's newest lifestyle boating destination and will feature 270 state-of-the-art marina berths, fuel, dry storage, vessel lifting and commercial marine services, all nestled within the beautiful Shell Cove Harbour. 
Boating
Both powered and non-powered watercraft are welcomed into Shell Cove Harbour, including boats, jet-skis, kayaks, canoes and stand up paddle boards. The public jetty is available to boats which do not maintain a berth at the marina however, there is a two hour time limit to ensure access is shared between all visitors. 
Download the boating map here.
Being safe on the water is a responsibility we all share. From weather conditions and maintaining your vessel, to knowing the rules and having the right equipment – make sure you're ready for a safe day on the water.  
More information on safety and rules on NSW waterways can be found here.   
Please note: Anchoring is prohibited in the harbour and channel but you can moor at the public jetty and if you're interested in obtaining a berth please contact Shellharbour Marina. 
Fishing 
There are both permitted fishing areas and prohibited fishing areas in and around the harbour. These areas provide safe and enjoyable spaces for all users and ensure that the harbour is healthy and has sustainable fisheries for future generations.   
Permitted fishing areas are located on the northern side of the harbour and along both sides of the breakwaters (near the ocean entrance).  Prohibited fishing areas are along the main public areas from the children's wading beach to the public boat ramp. This includes the main jetty and the promenade areas in front of the Waterfront Dining Precinct and the Tavern.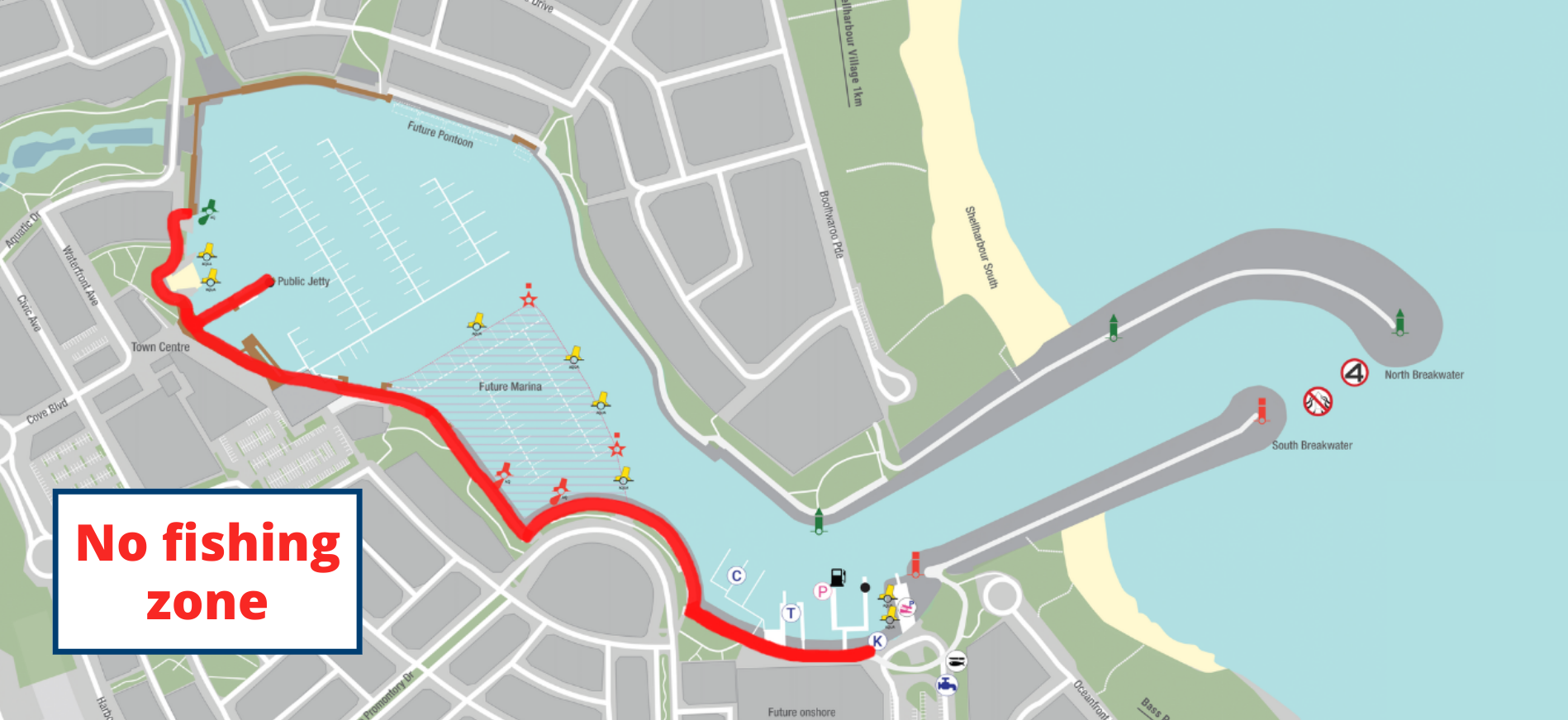 When fishing in NSW waters, both freshwater and saltwater, you are required by law to pay the NSW Recreational Fishing Fee and carry a receipt showing the payment of the fee.  This applies when spear fishing, hand lining, hand gathering, trapping, bait collecting, prawn netting or in possession of fishing gear in, on or adjacent to waters. 
There are several exemptions from paying the recreational fishing licence fee and more information can be found here. 
Fishing Regulations
Fishing regulations, such as freshwater and saltwater bag and size limits, apply to help ensure healthy and sustainable fisheries for future generations. 
Size limits aim to allow fish to reach maturity and complete their breeding cycle, while bag limits help make sure everyone gets a fair share of the resource and species are not overfished. 
You can find more information on Saltwater bag and size limits here. 
Responsible Fishing  
We support the responsible fishing practices promoted by NSW DPI and the following guidelines can be applied whether you take fish for the table or release your fish.  
Only catch sufficient fish for your immediate needs. Release all others using best practice catch and release techniques. Remember all fish, including scavengers, are important to the ecosystem.  
If you retain your catch, dispatch all fish and invertebrates swiftly and humanely. To avoid wastage and the risk of food poisoning always chill your catch immediately with ice.  
Dispose of all litter and fish waste responsibly. This may mean taking your litter home with you.  
Be respectful of other water users and people in the local area. We all share these areas so try not to obstruct others, interfere with their equipment or cause excessive noise.  
Be particularly careful not to put anyone's safety at risk by your actions. Give swimmers or divers a wide berth.  
Use environmentally friendly fishing tackle such as lead-alternative sinkers, biodegradable lures and non-stainless hooks where possible.  
Act responsibly when you have reached your bag limit and you remain at the fishing grounds. Ensure any additional fish caught have the best chance of survival once released. If you are fishing deep water, consider moving to a different location to reduce potential discard mortality.  
Good Fish Habitat Means More Fish 
Habitats are where fish live, feed and breed. A wide variety of healthy fish habitats means more fish, healthy fish and a variety of different species. This is essential for better fishing and a variety of fishing experiences.  
Things you can do to help protect fish habitats and marine biodiversity:  
Use established access points to launch and retrieve your boat.  
Do not anchor. 
Follow speed limits
Dispose of your litter appropriately and encourage friends to do the same.
Contact Shellharbour Marina to use the provided pump out facility.  
Use environmentally friendly fishing tackle such as lead-alternative sinkers, non-stainless hooks and biodegradable fishing lures.