Art in unexpected places
Patrick Shirvington
"My work investigates the relationship to the natural world through drawing,  believing the practice of drawing is fundamental to the cognitive process and to opening doors to the unseen.
I tell my story with mythical symbols, whether from the brush on a large canvas to the more intimate illustrations in children's books, I feel the unknown is more important than the known, as it awakens our dreams and intuition.
Through our dreams we delve deeper than the mere surface. My artmaking looks at the natural world surrounding us, firstly bringing our attention to the picture surface, followed by a deeper revelation."
Patrick Shirvington is an accomplished children's book illustrator with a Master of Cross Disciplinary Art and Design UNSW.
His picture book, Can You find Me?, written by Dr Gordon Winch, was shortlisted for the Wilderness Society Environment Award for Picture Books (Australia), a CBCA Notable book, with Patrick being nominated for the Crichton award for                       
illustration. Patrick's books have now been published worldwide.
Keep your eyes peeled for Patrick's works on display in your local bus shelters from early January until March. 
Locations:
•     Princes Highway, Albion Park  
•     Lake Entrance Road, Oak Flats  
•     40 Lake Entrance Road, Oak Flats 
•     128 Shellharbour Road, Warilla
Art in unexpected places by Clare O'Toole
Dharawal-based artist Clare O'Toole has been exhibiting since 2017 and is a Wollongong local. Clare has a multidisciplinary practise, focusing on painting, sculpture, photography and drawing.
Clare's practise embodies still-life compositions from everyday consumer products; drawing inspiration from the pantry to the grocery store. Clare enjoys recreating iconic packaging, in a unique and vibrant style, inspired by the likes of pop artists such as Andy Warhol and David Hockney.   
You can find Clare's works at your local bus shelters and at the Shellharbour Village Imaginarium.
Locations:
 Princes Highway, Albion Park  
 Lake Entrance Road, Oak Flats  
 40 Lake Entrance Road, Oak Flats 
 128 Shellharbour Road, Warilla
Date: October 2022
Magical Realism by Leaf Klevjer

In a time of huge personal and global suffering, walking and taking photos has been a practice which has saved me again and again. I use my camera phone because having it handy is a way that I can stay attentive to beauty, light, form, line and shadow all the time. Simple tools remind us that we are the ones who generate the creativity. My work is an invitation to us all to stay open to the magic which is all around us, in our homes and streets.
 
These temporary works will be in place from March – May, 2022
Locations: Princes Highway, Albion Park (across from #295), Lake Entrance Rd (Wattle Rd intersection), 128 Shellharbour Rd & 40 Lake Entrance Rd
Date: 2022 
Art on Electrical Boxes by Richard Campbell
Richard Campbell, artist and Director of Gumaraa Aboriginal Experience, created nine paintings on electrical boxes that run throughout George Street, Warilla.
The artworks depict stories that have been passed down from generation to generation. Richard 'paints from the heart'  and has been doing so for the past 30 years.  
Date: November 2021
Art in Unexpected Places by Hannah Jensen
My artworks illustrate my connection to country, drawing inspiration from the land on which I was raised. I use significant symbols, colours and shapes to represent my perception of Country within the local context of Dharawal Country.
My work depicts significant meeting places and local native flora that make up the local landscape on which I live.
Locations
Prince Highway, Albion Park (across from #295)
Lake Entrance Road (Wattle Road intersection)
128 Shellharbour Road
40 Lake Entrance Road
 
Date: These artworks will be in place from December 2021 - February 2022.
Mural by Claire Foxton
The artwork is a celebration of local marine life in colours that would pop against the ocean and blue sky. Species featured include Mado fish, Green Turtle, Easter Blue Devil fish, Weedy dragon, Humpback Whale and the Short-beaked Common Dolphin.
Location: Beverley Whitfield Toddler Pool, Shellharbour Village
Date: June 2021
Amenities screening by Carla Gottens
Best in Show is exactly that, showcasing various exhibit entries that stand for competition in the Albion Park Showgrounds Annual Show. From Poultry to Dahlias, Best in Show celebrates the community involvement and pride in their region and in their achievements. The artwork draws on traditional wreath designs used for border decoration in printed manuscripts and around the edges of architectural features. The country show is an age old tradition the world over and its charm has seen it transform over the years to incorporate modern achievements while still celebrating skills and knowledge from the past.
Location: Albion Park Showground 
Date: April 2021
Amenities screening by Yu Fang Chi
The artwork portrays a connection of local history. Chi's design for this screening focused on the relationship between people and the contextual background.
Through reference images of events in the showground, the series panel design is a collage of figures, animals, and movements, which echo on the historical events and memories.
Location: Albion Park Showground
Date: April 2021
Amenities screening by Claire Foxton 
The privacy screening has been designed to create natural light for an open, inviting & secure space. It features a farm-themed design to reflect the park's history of when the land was owned & farmed by Dick McDonald.
Location: McDonald Park, Albion Park Rail 
Date: 2020
Amenities Screening by Filip Bartkowiak
Bartkowiak's design makes reference to the Illawarra Flame Tree (Brachychiton acerifolius), and explores the physical details and features of this plant. The design itself is a contemporary graphic of simplified line-work which utilizes patterns, forms and shapes found within the details of the tree. The installation of the panel evocatively showcases a beautiful interplay with natural light. 

Location: Top Park, Shell Cove
Date: 2020
Who's got the Chippies? By David Boyle 
Who's Got the Chippies? is a three-piece sculptural installation by Victorian artist David Doyle, a regular exhibitor at the Sculptures at Killalea exhibition. The fun artwork consists of six simplified seagull forms, arranged in a grouping which is typical of the birds. The artwork installed in the courtyard area, encourages interaction and prompts a joyful response from library visitors.

Location: Warilla Library 
Date: 2020
Dragonettes by Vera Moller

Dragonettes were designed to mark Shell Cove as a site of human habitation on the immediate vicinity of an outstanding aquatic environment. Shellharbour's Bushranger's Bay Aquatic Reserve at Bass Point is one of the best diving and snorkelling sites in NSW. Dragonettes are sculptural forms arranged into various formations. The decorative surface patterns are loosely based on spot patterns found on the Weedy Seadragon.

Location: Waterfront, Shell Cove
Fluidity by Orlando Norrish
The sculpture is an abstract piece that spans 15 metres in length and is comprised of steel sheets that have been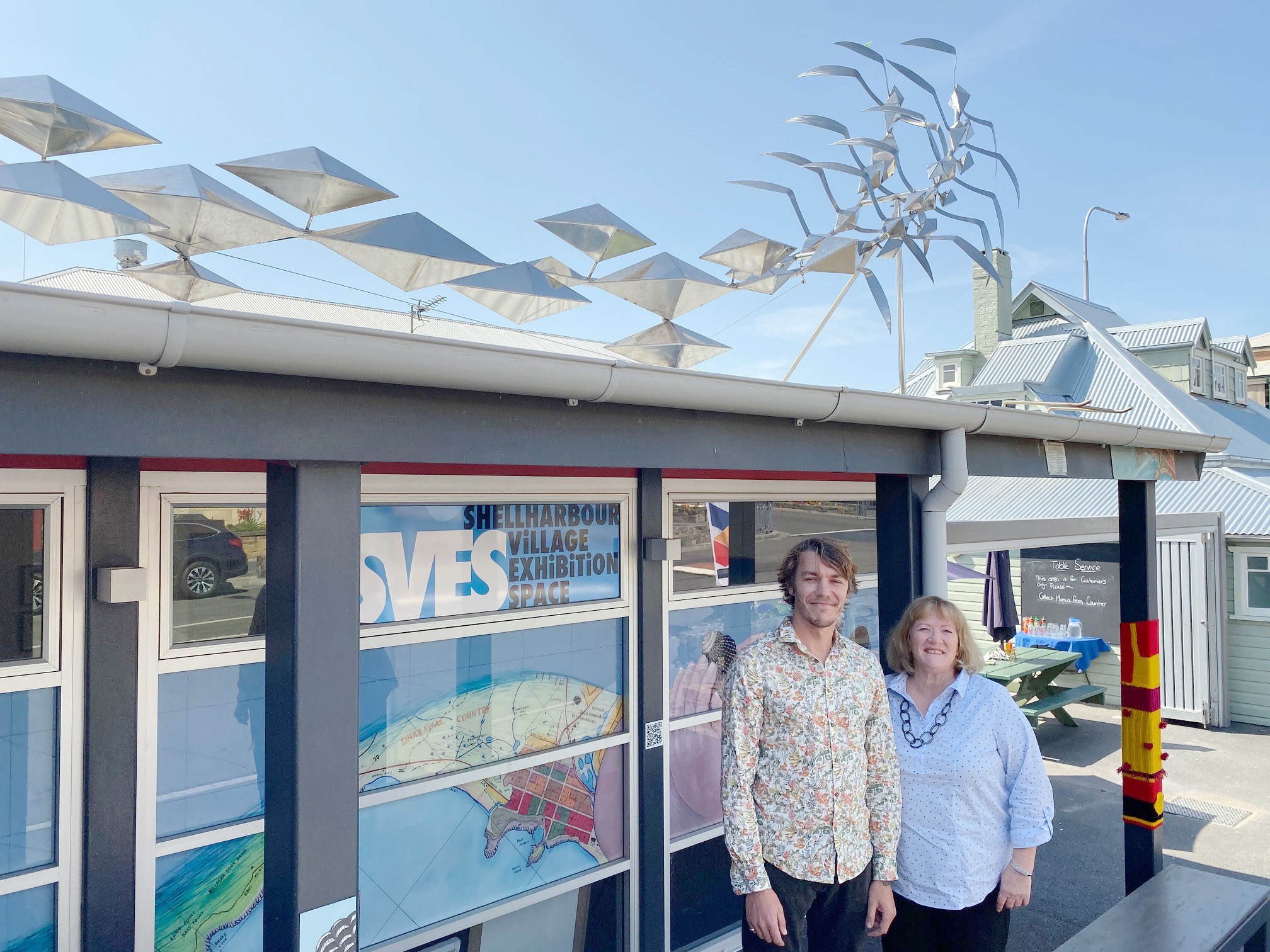 folded into geometric shapes.
It resembles a school of fish that sweeps across the roof of the building and transforms into a flock of birds as it lifts up towards the sky.
The piece is a celebration of diversity, movement, and change both within the natural world and in modern society. 
Location: The Imaginarium, Shellharbour Village 
Date: 2019
Marine Plates

This collection of vibrant and colourful ceramic plates was part of an engagement activity to involve young artists from local primary schools in the activation of newly built Warilla Library. The budding artists, aged 4-12 years of age,  painted artworks on plates in response to a marine theme. The schools involved were Lake South Primary School and Warilla North Primary School.
Location: Warilla Library, Woolworths Ave, Warilla
Date: 2019 
Last updated : Mon 23 Jan 2023