Play Trail 
A play trail has been developed along the harbour promenade and parklands, featuring a number of interactive play equipment pieces to keep you entertained as you spend time walking around our beautiful harbour precinct. 
Map coming soon.
Kids Beach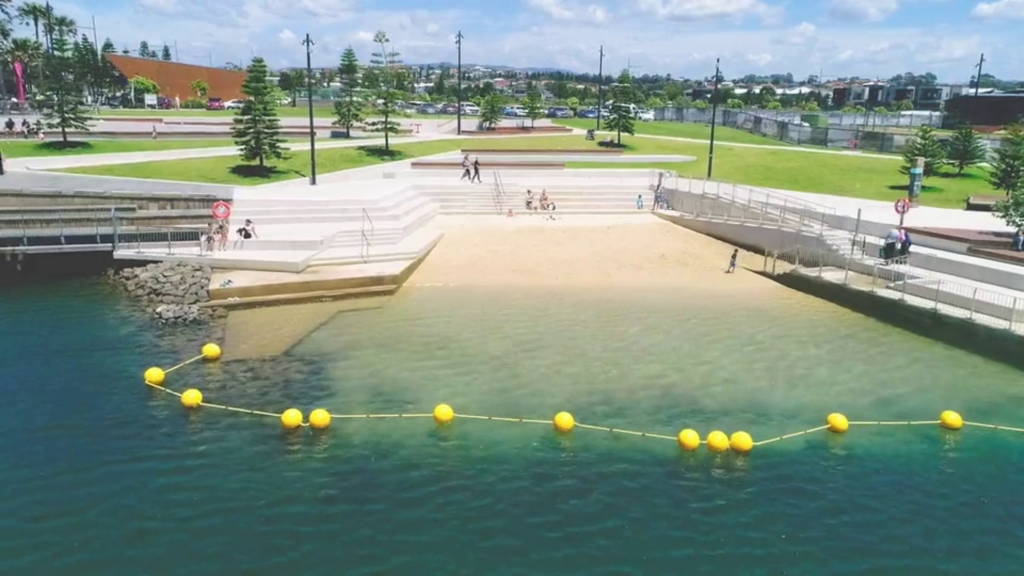 The kid's beach is the perfect place for kids to have fun playing in the sand, building sandcastles, or cooling off in the shallow wading water. 
Please note the yellow markers are in place to outline the shallow wading area. Near to the yellow markers and beyond, the sand is supported by a rocky reef which may be colonised by sea life including oysters and barnacles. This is both natural and beneficial to the Harbour as these shellfish help improve the Harbour's water quality, however, this area beyond wading depth is not designed for swimming or playing. 
While dogs are welcomed at the harbour we do ask that you leave your dog on the land while you play on the sand. 
Playground 
Adventure Playground coming to the Harbourside Park  
Playground coming to the slide Park 
 
Parking  
If you are planning on driving to Shell Cove Harbour there are various public carparks available across the precinct.  
Public parking is available at: 
The Tavern Car Park (accessible via Marina Drive)  
The Boat Ramp Car Park on Maritime Drive  
Beachside carparks on Oceanfront Drive and Bass Point  
Town Centre above and below ground carparks (accessible via Cove boulevard, Marina Drive, Civic Avenue and Waterfront Promenade) 
Street parking is also available along Aquatic Drive, Civic Avenue and the Waterfront Promenade. 
An additional 40 space carpark is currently being planned for Marina Drive 
 
Additionally, Waterfront Tavern has a courtesy bus. Please contact the Waterfront Tavern for more information.  
A new taxi zone has been established along Cove Boulevard in the Westbound lane, just up from Woolworths.
 
Amenities (toilets etc.) 
Public toilets are located at: 
The Town Centre 
The Breakwater Park  (Open from 6am – 10pm 7 days a week.)
Additional public facilities are currently under construction within the Marina Services Building east of the Waterfront Tavern, these are expected to be available in late 2022. 
Plan your visit 
The Shell Cove Harbour is located in a picturesque coastal location, similar to other coastal locations the Shell Cove Harbour can be impacted by heat, wind, rain and cold especially during evenings when taking a stroll around the harbour. So don't forget to check the weather forecast and plan ahead.   
Shell Cove Swimming Net FAQs
The swimming net has been installed just outside the floating yellow buoys which signify the edge of the shallow wading area. Beyond this point swimming is not permitted, due to submerged rocks and a deeper drop off.